eBanking Extender App for Dynamics 365 Finance
Add Supported File Formats of ACH and Positive Pay for Banks
| | |
| --- | --- |
| Product Name: | eBanking Extender App |
| Product Version: | 10.30.5.0 |
| Works With: | Dynamics 365 Finance and Operations |
| Purchase Price: | $199/Month |
Product Summary
Improve your fraud-prevention processes with this eBanking Extender App for Microsoft Dynamics 365 Finance. The Dynamics 365 Finance standard NACHA and positive pay file formats do not meet the requirements of all banks in terms of file structure. For the banks to process the NACHA and positive pay files, the file format in D365 Finance must be modified according to the bank specifications.
Additional Detail
What "is" NACHA and Positive Pay?
NACHA file format is one of the most popular types of payment files. A NACHA file allows to execute domestic ACH payments through the Automated Clearing House Network. NACHA file looks like a payment instruction file. It gets sent or uploaded to a bank portal to execute a mass payment batch.
Positive pay is a form of treasury management that works to identify altered checks and prevent check fraud. It stops criminals from cashing fraudulent checks using stolen bank account numbers. It will also catch any bad check information where the amount or date has been altered.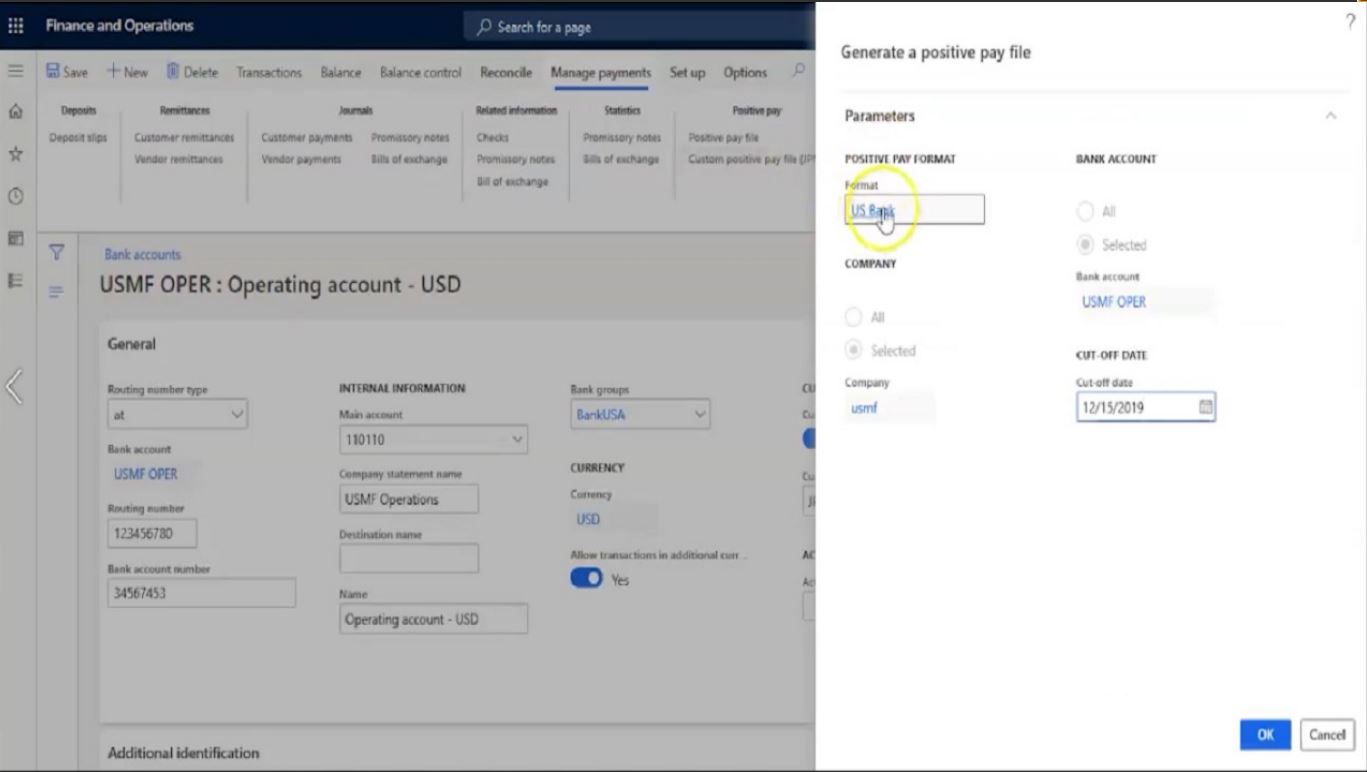 The eBanking Extender Application provides the file formats of NACHA and Positive pay, which are accepted by banks. NACHA format is used for electronic payment transactions between bank accounts. Positive pay provides a list of valid checks and amounts used to assist in verifying payments.
The eBanking Extender Application has the NACHA and Positive pay file formats for the banks JP Morgan Chase, PNC and Truist. The file formats of other banks will be added to the solution in the upcoming releases.
A onetime setup fee may be required to verify the files with a bank, and we provide those services to complete this process. If you have questions on specific banks, please fill out the form below for more information.